An IPS officer's initiative becomes the catalyst for a movement towards social harmony.
India is a nation with diverse culture. In fact, unity in diversity is the beauty of this culture which has, over the centuries, bound the people with diverse religious, linguistic, and ethnic backgrounds to live in perfect harmony. "Buddha Se Kabir Tak" is an initiative undertaken with an aim to accentuate this unity in diversity in Uttar Pradesh.
The moving spirit behind Buddha Se Kabir Tak is Vinod Kumar Mall, an IPS officer who served as Gujarat DGP. The core philosophy behind his mission is togetherness.
Asked about the inspiration behind the move, Mall said, "Having served as a police officer for 30 years, I have seen hatred and violence very closely. It becomes imperative for the police force to initiate social interventions to promote acceptance and togetherness much before a bone of contention between two groups threatens to disrupt peaceful coexistence leading to violence in the society. Buddha Se Kabir Tak, a socio-cultural movement, is part of the intervention initiated in early 2018 from Gorakhpur."
As Mall put it, it all started with the idea of invoking Gautama Buddha for a peace movement in society at a time when there was strife all around due to hatred and violence. Since Buddha's life not only has a pan India but also a universal appeal, his name comes in handy to symbolise peace.
The concept of Buddha Se Kabir Tak was born during strife. The spiraling effect of the cycle of action and reaction was leading to an unending chain of violence and thereby causing polarisation in the strife-torn society. Hence, Mall and his associates thought of finding ways to deal with the situation that could not only ensure the restoration of peace but also help initiate the reconciliation process.
"The first thing that came to his mind at that time," recalls Mall, "was organising a yatra (expedition) with the message of peace and harmony. I jumped on the idea and instantly decided to embark on the journey. And the rest is history as they say."
Before undertaking any yatra, one obviously needs to decide on its starting and end point. With a view to add a symbolic significance to the yatra, he chose Kushinagar with the historical monuments commemorating Buddha as the starting point and Maghar, the nirvan sthal (place of salvation) of Kabir, as the terminal point of the yatra covering a distance of about 90 km. Thus, the Buddha Se Kabir Tak was accomplished.
Buddha se kabir tak is socio-cultural movement that uses teachings of Buddha, Kabir, Gandhi, Gorakhnath, Mahaveer and many other icons of our composite culture to spread the message of peace, non violence and togetherness.
What is the significance of Gorakhpur in the yatra?
"Gorakhpur is geographically located at the meeting point of the Lumbini-Kushinagar-Maghar triangle. Lumbini is the birth place of Buddha and Kushinagar is the place where he attained nirvana while Maghar is the place of nirvana of Kabir. The historical significance of these locations inspired us to carry out the first yatra between Kushinagar and Maghar in April 2018 followed by annual yatras in 2019 and 2020.
Along the route of the yatra, cultural programmes were organised at universities, colleges and other social platforms to spread the message of peace and social harmony. In the process, a Buddha se Kabir Tak band was formed with talented young members who mainly sing songs of Kabir, Gorakh sufi social reformers. People from different walks of life representing academics, culture, music, social work joined the group on completely voluntary basis. Group is attracting talented people from all over the country."
According to Mall, the struggle of people is also an important part of this evolution. The principles of equality, justice and liberty, the core of freedom struggle which are included in our constitution are the objectives of the movement. "Buddha se Kabir Tak aims at strengthening the core values of the constitution and constitutional nationalism," he says.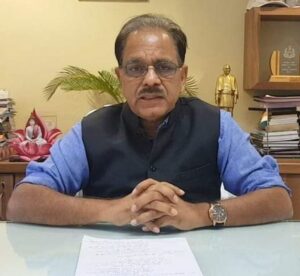 Mall calls Buddha se Kabir Tak an open organisation with no official membership. Anyone who believes in the values and objectives of the movement can join the group even in absentia. They reached out to thousands of people with the message of peace and harmony while lakhs have been connected through social media and other online platforms.
"Though an apolitical group, it is open to everyone who wants to join it with an open mind. We ensure that no one uses this platform for any political purpose. We plan to organise more programmes in future in educational institutions and social spaces to spread the message of peace, love, and composite culture," says the IPS officer.
On the relevance of Buddha and Kabir in the contemporary world, Mall says Buddha with his agnostic philosophy which revolves around the suffering of humanity, and Kabir with his monotheism that rejects bigotry and irrational rituals, automatically becomes sarva-bhaumik and sarva-kalik. Buddha stands for peace, equality, and freedom from suffering which is so essential today that it got reflected in our constitution.
Kabir, on the other hand, speaks from a deep philosophical understanding which comes out of the oneness of everything – from God to human beings. It forms the basis of equality of all and implies redundancy of conventional religions like Hinduism and Islam. Kabir's philosophy has universal appeal as it rejects Vedas and Upanishads for attaining unity with God. His poems are simple. His nirgun songs come from the society in local Bhojpuri. It touches the hearts of the people.
Vinod Mall sees bright prospects for the movement he started. Since it is an evolving organisation, it doesn't have structural or functional limitations. Members come with creative new ideas and we discuss and execute them. For example, presently it is organising online Gandhi Katha (storytelling) every Saturday evening for the past seven weeks. Well-known historian and writer, Ashok Pandey, conducts the Katha. It is generating a lot of interest, especially in the youth. If you can attract Indian youth to an idea of peace, there can't be anything more satisfying. It gives hope for the future.
"Setting goals is not our idea," he asserts. We only are interested in working for this movement by engaging more people and increasing the content. We keep evolving our communication strategy to make it more appealing. The ultimate aim of this movement is to counter violence, polarisation, and hatred in Society through socio-cultural programmes. We need to strengthen the beautiful diversity in Indian society and its plural ethos. We need to expand this movement to areas beyond Purvanchal region of UP. Many talented people are joining the movement," he elaborated.
Talking about the journey and the success it has achieved so far, Mall said they have made an all-out effort to spread the core philosophy of the movement.
His message for the society: "India is a unique country with a rich cultural legacy of diverse tradition flourished under the benign philosophy of Sarva Dharm Sambhav (equal respect for all religions), a unique brand of secularism (sui generis). It has evolved over thousands of years with beautiful shades of different cultures, religions, languages and philosophies living side by side. Liberalism and pluralism has always been important ingredients of Indian society.
"Buddha, Kabir, Ravidas, Sankar, Vivekanand, Gandhi and many other champions of this pluralism stood for peace and togetherness. We have to respect the differences and accept them through togetherness. The same is enshrined in Indian Constitution. Let's all work together to strengthen the values of constitutional nationalism with principles of justice, equality, liberty and secularism," he concluded.
Disclaimer: We do undertake rigorous checks on content provided by contributors before publishing the same. If you come across some factual errors, kindly bring this into our notice and we shall review your objection and claim as per our policy and display correction credits and corrections on the article itself.
The opinion expressed in the article is of the writer. Writer is a freelance journalist/journalist based in Delhi