Ten days have passed since the world's largest Covid vaccination drive kicked off in India to curb further spread of the deadly infectious disease. The programme aims to develop antibodies in countrymen by administering two shots of any of the two vaccines – Covexin and Covishield.
After initial hiccups due to the hesitation of frontline workers from getting the vaccine shots, the drive seems to have now picked up with almost 55% of healthcare workers being vaccinated in the first week of the commencement of the mega project. However, the number is still short of expectations and authorities are doing every bit including psychological counseling to boost the vaccination process.
As on January 22, 2021, 267 cases of Adverse Effects after Vaccination (AEFI) were reported at 6 pm on the seventh day (January 22, 2021) but many of those who got AEFI have been discharged while some are under supervision of doctors.
Experts have asserted that herd immunity is the only way to eliminate the pandemic which has wreaked havoc the country killing over 1,50000, infecting over 1 billion people so far, ruining families, leaving people jobless and denting the economy. They pointed out that the infection still exists is spreading and killing people.
Death of a person might be number for others, but it is a huge irreversible loss for the families who lost their near and dear ones due to the disease. Therefore, they say around 60-70% of the population of the country needs antibodies of this disease. This is possible only through a combination of vaccination and practicing of Covid appropriate behaviour that includes hand hygiene, mask wearing and physical or social distancing.
Although as on January 25, 2021 over 16 lakh frontline healthcare workers including doctors, nurses, paramedics, nursing orderlies and sanitation workers have been vaccinated across the country, many are still playing and waiting and watching games.
Every day at every booth or center, 100 healthcare workers are understood to have been vaccinated. According to a report, around 27 lakh workers would have been vaccinated as on January 23, 2021, but only 1,61,5,504 could take jabs on January 25, 2021.
With the passage of time, senior doctors are now coming forward to motivate their junior colleagues to get vaccinated against the pandemic. It may be noted here that the frontline workers are the most vulnerable to the infection.
The senior doctors and head of various hospitals cited the example of Delhi government-run Delhi State Cancer Institute (DSCI) which took the initiative to allay fears among nurses and paramedics asking them to trust scientists, the system and government. They emphasised that vaccines were approved after proper scientific research.
During psychological counseling for the healthcare workers on the vaccination at DSCI, Dr Arun Gupta, President, Delhi Medical Council and Dr BL Sherwal, Director, DSCI, exhorted
them that by not getting the vaccine shots they would be sending out a wrong message to the society. They pointed out that many of their colleagues lost their lives in hospitals in the absence of a vaccine. Both the senior doctors also warned them that they won't be as lucky a few months down the line once the vaccines is sold in the open market for the common man.
Not only doctors but even Prime Minister Narendra Modi had to intervene and interacted with the healthcare workers who have been vaccinated against the infectious disease. This combined with no casualty reported after vaccination resulted in an increase in number of healthcare workers getting the jabs.
It may be noted that during the first phase of the vaccination around three crore frontline workers are to be inoculated with shots of the vaccines. Vaccination of these workers, who have also been hailed as corona warriors, is essential for making the vaccination programme successful.
Alt Lipi spoke to the doctors who got the vaccines shots to know about their well being. Dr Chetan Chouhan, senior resident, Lal Bahadur Shastri Hospital, Delhi, was administered Covishield. He said he is fine, fit and safe. He has not faced any adverse effects of the vaccination. Dr Chouhan was vaccinated on January 16, 2021, on the day the vaccination programme commenced. Covishiled is an Oxford University and AstraZenac vaccine being manufactured by Serum Institute of India.
Dr Anita Khokhar, Director-Professor, Community Medicine, Vardhman Mahavir Medical College-Safdarjung Hospital, Delhi, has also got the Covaxin jab. Covaxin, developed by Bharat Biotech, has been questioned by many as it is still under trial and its third phase findings are yet to be published.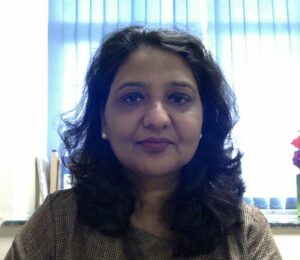 Dr Anita Khokhar
When asked about her wellbeing after the vaccination, Dr Khokhar said she is relieved that she will at least get some antibodies from the vaccine. The vaccine, she said is safe.
"It has been noted that Covid's antibodies have been unpredictable with new variants detected from the virus. Hence, if vaccines will produce antibodies, we should take it and will provide some protection. The trials of Covaxin third phase are expected to be disclosed on February 1, 2021," informed Dr Khokhar.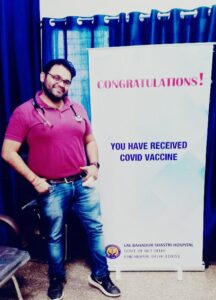 Dr Chetan Chouhan after getting the vaccine shots
Many senior doctors, including Dr Randeep Guleria, Director, Delhi-AIIMS, Dr VK Paul, Member, Niti Aayog, (Health) and Dr JA Jaylal, President, Indian Medical Association (IMA), have been vaccinated with Covaxin. They are safe and doing fine as of now. They all have allayed fears of the medical fraternity in particular and general population in general.
These doctors say if they can get the vaccine others, why can't others. Their initiative seems to work on doctors and other frontline workers with many of them making beelines for vaccination.
Dr Balwinder Singh, Senior Consultant, Orthopedics, Udhampur District Hospital, was vaccinated Covaxin recently. He said he is also fine and doing his job comfortably. There is a general impression that the vaccination among healthcare workers will send out a positive signal to the society. But for this, the government needs to put in more efforts to instill trust among the healthcare and frontline workers for the vaccination.
Disclaimer: We do undertake rigorous checks on content provided by contributors before publishing the same. If you come across some factual errors, kindly bring this into our notice and we shall review your objection and claim as per our policy and display correction credits and corrections on the article itself.
The opinion expressed in the article is of the writer. Writer is a freelance journalist/journalist based in Delhi