It's not an overstatement to say that India is staring a catastrophe in the face, in the wake of a crisis around severewater scarcity. All efforts undertaken by the government in the past to overcome thiscrisis have proved far too inadequate to meet the challenge at hand. A large proportion of the population is still facing acute waterscarcity, and the crisis is only going to get worse in the days to come as many parts of the country are already running out of water.
Many social activists are working to try andresolve the issue. Rajendra Singh is one of them.Widely known by the sobriquet he earned for his services, 'Water Man of India',he is spearheading a vigorous movement against water scarcity across the countrythrough a voluntary organisation he founded called Tarun Bharat Sangh. A recipient of the Magsaysay Award, Singhis working towardstwin objectivesof 'Water Literacy' and'Water Politics' to address the problem. In a candid interview with BK Jha,he stressed on the need for strong political will at both national and regional levels and community-driven action plans to resolve the most crucial issue of our times.
[caption id="attachment_577" align="alignright" width="300"]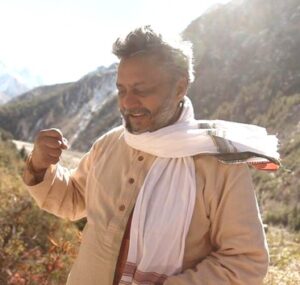 WATER MAN OF INDIA[/caption]
BK Jha: The 2019 LokSabha Elections have come to a close.Do you think any political party touched upon, even if remotely, the issue of the water crisis?
RajendraSingh: Going by the manifestos of various political parties at national or regional level, it's clear that our political leadership does not pay heed to a crisis that has long bedeviled our nation. Drought, floods, rivers dying and vanishing from revenue records, water pollution and the attendant health hazards have failed to draw the attention of political parties.
At anational level,theruling BJP did talk about providing 'potable' or clean drinking water through pipelines,but this is what we are opposed to.'Paanisepaisa' (earning from water)is a dangerous proposition. Unless the commercialisation or privatisation of water resources is checked with a strong political will and water literacy, we could end up paying a heavy price. Management of water at the source is the most crucial step in resolving the water crisis, but unfortunately this is ignored by all. Water politics (or 'dealing with the water crisis issue politically') alone can yield thedesired results. Amid the din of electioneering a consensus on this emerged among many political leaders involved in resolving the water crisis through community service in their respective constituencies. The trend, though encouraging, is still localised.
Why are we facing such a huge crisis today?How have things come to such a pass?
It's the logical outcome of years of neglect. Our small rivers are drying up while big ones are literally turning into drains carrying all sorts of pollutants and toxic waste. So much so that potable drinking water has become a luxury in many parts of the country.
The constitution makes it obligatory forthe state to provide potable water to every citizen. But the government seems to have abdicated its responsibility. Even public demand for the implementation of a Water Security Law went unheeded. All these years, we have not learnt to better take care of water resources.
Every year, we get plenty of rain. Water harvesting and conservation could have been combined with better water management and disciplined use of water. The incumbent NDA government claims to preserve our cultureand tradition, but unfortunately, the claim is not reflectedin their policies and programmesas far as water management is concerned. Commercialisationof water resources is going on rapidly, as I have said earlier.  What I mean by water politics is that the government needs to mobilise the public to save and conserve water. But our leadership seems to be more interested in commercialization of water resources. If the water becomes a market product, it would be very disastrous for the country.
While some parts of the country face drought, othersencounter floods every year. Which is more challenging,drought or flood?
Both are equally challenging. Drought affects human life in many ways. It exhausts the water resources by creating shortages of drinking water for humansand animals alike. It reduces agricultural yield and shrinks farm incomes, forcing people into distress migration, leading to socio-political turmoil.
In this context, the management of drought mitigation assumes special significance. Public awareness about the challenges and management of natural resources,including water, is needed. While everybody is affected by water scarcity, there are no commensurate efforts on the part of individuals or institutions to alleviate the problem due to a lack of water literacy. Tarun Bharat Sangh, in association with likeminded social organisations, has started a nationwide water literacy campaign; our efforts are focused towards this goal.
Floods are a natural phenomenon and hence we can't do much except minimise the damage through timely warnings and post-flood rescue and relief operations.
What do we lack at the policy level?
As we knowin the pastcivilisations have vanished due to mismanagement of water resources, an action plan on river policy is an imperative for the future of the country.
Efforts to clean Ganga are appreciable, but the biggest threat to the rivers comes from big dams and hydropower projects with canal diversions. Mindless exploitation of our water resources can be checked only through a comprehensive water policy that takes into accountthe sustainability of rivers.
Unfortunately, successive governments at the Centre have not been very serious about adopting a comprehensive water and river policies. Even the so-called river linking project seems to have been conceptualised with a view to serve the interests of industries, the urban populace and to feed water to 'smart cities' rather than sustain water bodies.
We need a national river policy that ensures rejuvenation of rivers through participation of communities at all levels. Participation at the grassroots levels like the gram sabhas, local community, districts, and panchayats can play a crucial role in this process. The policy should also call for the allocation of more funds for this project.
How do you want India to deal with the water crisis?
The crisis can be resolved at two levels. Firstly, we need to implement our indigenous knowledge and wisdom in the water space. Traditional wisdom combined with community-driven plans can resolve the crisis to a large extent. I refer to this effort as 'Communitisation of Water.'
In the last couple of years, over 100 regions in the country have implemented community-driven water schemes for saving water at source. Several villages of Rajasthan, Maharashtra, Madhya Pradesh, Tamil Nadu, Telangana, Karnataka, and the north easternstates have set the tone for the mission by joining the river and tanks and rejuvenating rivers and traditional water harvesting structures.
Secondly, to replicate these schemes across the countrywe need to involve people in water politics and water literacy. I strongly believe that the community-driven water management model is the most successful and sustainable option to deal with the crisis.
The agriculture sector requires plenty of water. How could we meet the demand?
Irrigation is the lifeline of agriculture. Earlier, farmers used to sit and discuss rain patterns in the month of Jeth (June) and then decide about the crops. Now, we have an accurate prediction about rains which can help in deciding about the crops depending on rain patterns. The rains should decide the crop patterns.
Secondly, soil strength should also be taken into consideration. If the soil is dark and not very strong,the crops with deep roots should be sown.
Thirdly, I strongly recommend that our marketing system,with regard to agribusiness, needs to be changed and our Public Distribution System (PDS) of those crops which consume less water should be given more value.
Thousands of villages in the AlwarDistrict of Rajasthan have benefited from your water conservation efforts. Your model has earned you the sobriquet of 'Water Man of India'. Do you foresee replication of your model in other states?
I have combined traditional knowledge and modern techniques to achieve the goal of water conservation. The technique proved useful as a sustainable model. It also resulted in prevention of floods and soil erosion on riverbanks and thereby restored wildlife. The techniques of rainwater harvesting are cheap and simple. In Rajasthan, people have taken initiatives to store water by erecting and restructuring anicuts, check dams, taals(ponds) and other water bodies.
In Alwar District, we could be able to able to bring in social resilience to resolve water problems through wider participation of people including women. We combined indigenous wisdom and knowledge with new technology torealise our objectives. This helped createa new model of better resource management. To startwith,we implemented the model in one village of the district. In due course of time, we have erected more than 11,000 anitcuts, check dams and other water bodieswith the help of 1,200 villages.
Our methods and techniques can be replicated across the country. With this new model we can build low-level banks of earth to hold back the flow of water in wet season so that water could seep into the ground which stands in good stead for future use. During dry seasons, crop patterns should be changed. The crops that require less water need to be encouraged. Telangana, Tamil Nadu, Maharashtra, and Madhya Pradesh have already made some progress following the crop patterns based on rain-cycles and water harvesting.
Blurb
"At the national level,the ruling BJP did talk about providing 'potable' or clean drinking water through pipelines,but this is what we are opposed to. 'Paani se paisa' (earning from water)is a dangerous proposition."
"We need a National River Policy that ensures the rejuvenation of rivers through the participation of communities at all levels. Participation at the grassroots levels like the gram sabhas, local community, districts, and panchayats can play a crucial role in this process."
Disclaimer: We do undertake rigorous checks on content provided by contributors before publishing the same. If you come across some factual errors, kindly bring this into our notice and we shall review your objection and claim as per our policy and display correction credits and corrections on the article itself.
The opinion expressed in the article is of the writer. Writer is a freelance journalist/journalist based in Delhi